How Many Fire Exits are Required by Law?
Those who own or manage commercial and industrial properties are required to adhere to a range of fire safety obligations as set out by The Regulatory Reform (Fire Safety) Order 2005 [Gov.uk].
One such obligation is the incorporation and maintenance of fire exits in a property, and in this article, the team at Royal Industrial Doors are going to detail what you need to know about your fire exit obligations.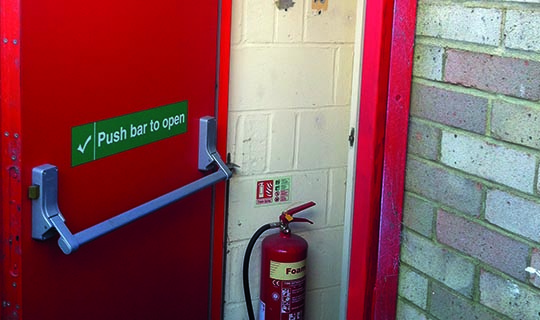 What is a fire exit?
According to the Regulatory Reform (Fire Safety) Order 2005, a fire exit:
Must open in the direction of escape
Must be clearly signposted with fire safety signage
Must be clear of all obstructions
Must be easily accessible
Must lead to a safe place
Must be easy to open and never locked
By adhering to the regulations and ensuring your fire exits meet the above criteria, you can help to keep those within your premises safe, as well as making sure you don't end up with a considerable fine.
How many fire exits do I need?
There is no concrete rule about how many fire exits you need. The amount of fire exits recommended depends on the size and type of the property in question. It is recommended that you have more than one fire exit, and they should all have separate escape routes; this helps to minimise the possibility of bottlenecks and crushes as people head for the exits in an emergency.
If it's not possible to have more than one fire exit – i.e. if your premises is too small – then the one fire exit you do have should not be more than 25 metres away from any point in the room, if there's a low risk of fire. If there is a high risk of fire in your property, then this distance is reduced to 12 metres. For properties with several fire exits but a low chance of fire, the required distance is no greater than 60 metres.
All fire doors must be fire-rated and fire resistant
Failure to provide at least one fire exit can result in significant fines. If a lack of fire exits leads to a preventable injury or death, you may be sent to prison. If you are unsure about your premises' fire safety levels, arrange for a fire risk assessment from a reputable fire safety company.
Royal Industrial Doors supply fire safety doors and fire shutters for customers throughout Stevenage, Luton, Milton Keynes and Bedfordshire. We provide single and double fire doors, and 2-hour and 4-hour fire roller shutters. For more information, please contact us today.
Contact us, Call us on 01582 377 411  or send us an email to info@royaldoorsuk.co.uk