How to Clean Your Roller Shutters
While it might not be the first thing that springs to mind when you think about the aesthetics of your business, your roller shutters play a big part in the overall look of your property, whether you look at it every day or you pass it once in the street.
Over time, your garage door will be subject to wear and tear through exposure to the elements and general usage.
Why do I need to clean my roller shutters?
Keeping your roller shutters clean not only helps to preserve the look of your property, but also ensures any issues with the functionality of your roller shutters. Royal Industrial Doors' roller shutters are robust, reliable and low-maintenance, but there's still a way you can ensure they look their best. Here, we are going to run through the best way to clean your roller shutters.
What do I need to clean my roller shutters?
A soft cloth
Clean water
A soft-bristled brush
Mild detergent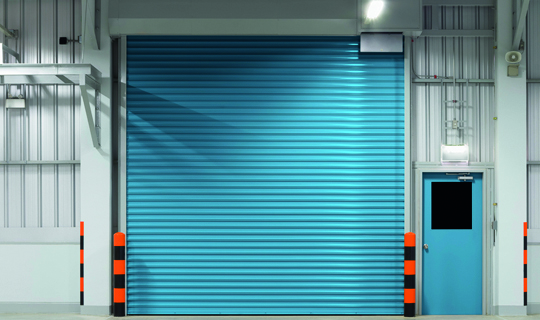 How to clean your roller shutters
Step 1
Using your cloth or soft brush, and your detergent, wipe down the shutters gently. This will remove any pollutants that may have accumulated between each slat and on the door's guides.
Step 2
Wipe the shutters in a vertical motion to spread the detergent around the door. The reason for the vertical motion is that it prevents any accidental misalignment of your slats; if your slats are misaligned, your garage door may have problems operating in future.
Step 3
Once you have finished wiping the door with mild detergent, you then need to rinse it with clean water, and then dry the door with a soft cloth. Be sure to continue the vertical motion when drying the door.
Step 4
Cleaning the guides is the final stage of the process. Firstly, you will need to fully open the door, and then you can sweep any dirt or debris from the inner guides. If you prefer, you can do this with water from a hose pipe. When you've completed the cleaning process, make sure the guides are totally dry before you close the door.
If you follow the 4 steps here, you should have a nice and clean roller shutter. This guide may seem simple, but often people forget to clean their roller shutters. This can cause problems as dirt and debris can get stuck in the shutter itself, or jam the mechanism.
Visit our Security Shutters page for more information on our range of Roller Shutters, and complete the form for a free site survey or quote. Give us a call on 01582 570 707 for a chat about your needs today.
Ensure your security shutters and roller shutters are long-lasting and safe with Royal Industrial Doors. We are the perfect choice for any repairs or maintenance you need. We have 25 years' experience delivering high quality service to customers throughout the south of the country mainly, although we do cover all areas of the UK.
You can look at our graphical area page to see coverage (ie. Cambridgeshire, Bedfordshire, Buckinghamshire, Hertfordshire, Northamptonshire, London and many more areas).
Through our team of professional technicians and engineers, we offer a 24 hour emergency service and a free on-site survey and quotation.
Contact us on 01582 570 707 or send us an email to info@royaldoorsuk.co.uk